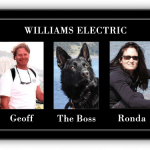 Usually, there is no more than a week or so back log of work.  Therefore, I can start immediately upon signature of contract.  Power will be made available to all who need it on the job, such as other trades, computer needs, home business needs.  I will give power to all who request it without complaint.  However, power will be cut on and off during the entire project.  Keep this in mind regarding computers.  Refrigeration is most likely not going to be an issue, due to residual molecular cold in freezers and refrigeration equipment.  Your power will be restored before I leave, except for rare occasions.  All clients should read this information packet, and avert any problems.
Some noise will be created with power tools, hole hawg drills, ground rod roto hammers, battery drills, high rpm diamond blade saws, sawzalls, hammering.  Dirt will be created and removed at the end of the job, such as packaging, card board, pieces of wire, plaster dust, stucco dust, sheet rock dust, etc. Professional daily clean up is available for extra cost.  Plastic sheeting will be installed only if necessary.  Noise levels may wake babies and sleeping adults; however, in most jobs, noise, debris and dirt will not be a problem.  The job will not be cleaned up completely until the end. We will pass all inspections with the city and PG&E. Painting and patching may be required by the customer.  I will patch initially, and experts may be used later.  However, most jobs will never need any further attention than our initial patch.  Work cannot begin without a signed contract.
Clean
Unless otherwise arranged for, I clean the job fully at the end.  If you are hyper sensitive to dust, or have allergies, you may want to arrange for daily cleaning.
———————————————————————————————————————————————-
Communication
I start with an appointment, provide the customer with an estimate, then ask for signature, and a start date.  On the start date we go through orientation, and make
sure we have access to all areas of the property, or a key.  I pass inspection and then ask for payment.
———————————————————————————————————————————————-
Codes
I know the NEC code and can look up the sections that apply to clients jobs. The inspectors know me and I am familiar with their quirks.  They just want the job done to code.
———————————————————————————————————————————————-
Entry Arrangements
I will make contact the week prior to the start date.  The client will set a start day and an end day. Work details and entry arrangements should include a key for us, or a lock box where we may leave the key, or a key drop.  Most clients provide us with a key; however, some do not feel comfortable with that arrangement, and prefer to stay home during the job.  We
are bonded and insured to $2,000,000.  Nothing has ever gone missing during our jobs, nor stolen, nor burglarized, during thirty years of work.  Some leave their garages unlocked, or hide the key in the PG&E meter main.  Let me know if any pets should be prevented from leaving the house.
———————————————————————————————————————————————-
Furniture Moving
The work area should be cleared of all belongings, providing 3' of working clearance. Customers should cover any belongings near
the work area, such as clothing, to avoid dust and debris. If you need help with furniture, let us know ahead.
———————————————————————————————————————————————-
Heavy Items
Heavy items such as ovens, stoves, refrigerators, or new machinery, can sometimes cause floor damage, and require several people to install and move/remove.
———————————————————————————————————————————————-
Payment
I accept payment via check, cash or Paypal at the end of the job.  Some jobs may require a progress payment schedule, which will be laid out in the proposal; however, this usually applies only to jobs over $10,000.  I do not request a down payment; and only ask for payment after the job passes inspection.  I
protect my customers.  I have repaired thousands of homes, and helped launch hundreds of businesses.  Credit card companies also charge anywhere from 2.25%–5%, a cost which I do not pass on to my clients.
———————————————————————————————————————————————-
Tools
I sharpen and replace my drills and blades during off times.  I don't use dull saws, hole saws, or sawzall blades.  I have an amazing variety of blades and drills.  I use new material, mains, breakers, disconnects, and all are NEC compliant.  I use leveled ladders to decrease
the chance of job injury. I have learned to use the right tools and material for each separate wiring method.  That's the difference between a good job and a bad job.
———————————————————————————————————————————————-
Vehicles
I use specialized, one of a kind trucks designed for my work.