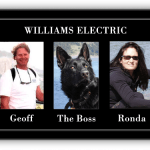 Geoff at Williams Electric is amazing! He responds quickly, is extremely professional and always very informative. I have worked with Geoff several times over the years and I'm always amazed at how up-to-date his knowledge is and that he is willing to give his time and expertise to make me feel better about the jobs that he does.
In any construction project, large or small, there are always three things that everyone wants:
– Fast
– Cheap
– Good
Typically you only get two out of three (if you are lucky). With Geoff at William's Electric you get all three.
If you are looking for an honest, informed electrician, Geoff is your guy! I cannot recommend him highly enough!
Serving Oakland, CA and surrounding area, including:
Berkeley, CA
Berkeley hills
North Berkeley
Oakland hills
Rockridge
Dimond district
China town oakland
Hayward, CA
Richmond, CA
Walnut Creek, CA
El Cerrito ca
San Pablo ca.
Albany ca.
San leandro calif.
Montclaircalifornia
Piedmont cal.
EmeryvilleCalif.
Kensington Ca.
Castro Valley
Orinda
Lafayette
Serving zip code:
94618, 94705, 94611, 94602, 94603, 94605, 94619, 94608, 94708, 94801, 94556, 94710, 94530, 94806, 94803, 94704, 94563, 94805, 94556, 94564, 94804, 94801, 94552, 94577, 94621, 94502
electrician review reviews geoff williams electric