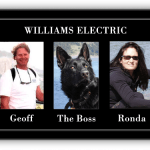 Oakland hills montclair ca.  5 stars
 5/4/2013
Great guy.  Such a joy to have a contractor actually call you back in a timely manner.  Which seems strange that I actually have to mention.
Geoff showed up on time for both the estimate and the work.  Geoff works on Saturday which was amazing!
I hilly recommend Geoff for those that want no hassle professional.
Serving Oakland, CA and surrounding area, including:
Berkeley, CA
Berkeley hills
North Berkeley
Oakland hills
Rockridge
Dimond district
China town oakland
Hayward, CA
Richmond, CA
Walnut Creek, CA
El Cerrito ca
San Pablo ca.
Albany ca.
San leandro calif.
Montclaircalifornia
Piedmont cal.
EmeryvilleCalif.
Kensington Ca.
Castro Valley
Orinda
Lafayette
Serving zip code:
94618, 94705, 94611, 94602, 94603, 94605, 94619, 94608, 94708, 94801, 94556, 94710, 94530, 94806, 94803, 94704, 94563, 94805, 94556, 94564, 94804, 94801, 94552, 94577, 94621, 94502
electrician review reviews geoff williams electric