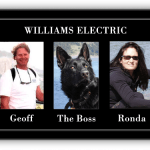 Castro Valley, CA
5 stars review castro valley ca. williams electric  best of yelp
1/25/2011
We highly recommend Williams Electric. After we bought our
house, an older property with few upgrades, we selected Geoff based on
recommendations from our real estate agent and building inspector and
after speaking with other electricians. We were not disappointed.
Geoff (the owner) was very punctual and very professional. He gave us
a very through assessment. He is extremely safety conscious and walked
us through the benefits and drawbacks of various options. He installed
a new breaker box, replaced wiring, fixtures, and outlets, and
switches. His rates are very reasonable and his work is excellent.
We are very happy with the outcome and will use Williams Electric
again.
Serving Oakland, CA and surrounding area, including:
Berkeley, CA
Berkeley hills
North Berkeley
Oakland hills
Rockridge
Dimond district
China town oakland
Hayward, CA
Richmond, CA
Walnut Creek, CA
El Cerrito ca
San Pablo ca.
Albany ca.
San leandro calif.
Montclaircalifornia
Piedmont cal.
EmeryvilleCalif.
Kensington Ca.
Castro Valley
Orinda
Lafayette
Serving zip code:
94618, 94705, 94611, 94602, 94603, 94605, 94619, 94608, 94708, 94801, 94556, 94710, 94530, 94806, 94803, 94704, 94563, 94805, 94556, 94564, 94804, 94801, 94552, 94577, 94621, 94502
electrician review reviews geoff williams electric