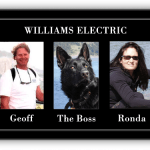 Some of our testimonials.
Oakland, CA  G. David.
We lived in our home for over 25 years and decided to add l outdoor accent lighting. A call was made to Williams Electric and he responded quickly. Geoff came over made suggestions, gave a reasonable price. The next week he came out and installed the lights in the blazing sun. He said, " You will be thrilled tonight."
Evening came, the lights popped on and now our home is a show piece. We can't believe we waited so long for this package. Geoff went the extra mile and highlighted Oak trees and our T Rex sculpture.
While he was here we decided for him to do a safety check of the Fuse Box Sub Panels. He discovered sub par circuit breakers , replaced them and put it into ship shape.
It was great to have a Contractor act so quickly, confidently and we feel that we would recommend his service to all.
geoff williams oakland ca. electrician reviews review
94618, 94705, 94611, 94602, 94603, 94605, 94619, 94608, 94708, 94801, 94556, 94710, 94530, 94806, 94803, 94704, 94563, 94805, 94556, 94564, 94804, 94801, 94552, 94577, 94621, 94502,  94601, 94604, 94606, 94607, 94609, 94610, 94611, 94612, 94613, 94614, 94615, 94617, 94618, 94619, 94621, 94623, 94624, 94625, 94626, 94627, 94643, 94649, 94659, 94660, 94661, 94666