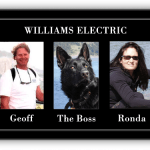 Niall B.  Montclair, 94611
I used Williams Electric recently to install new power outlets in our home and fix up some lighting issues.
First off, it was easy to get a hold of them and schedule an appointment as they have an admin running the phones. This makes scheduling WAY easier that most other services as you dont have to leave messages and chaise them up to arrange times.
Secondly, Geoff works efficiently and fast. He does quality work, is experienced (especially in the MOntclair area) and is very well equipped. He was able to install the units I needed exceptionally quickly (they werent in the easiest of places) and in no time was finished.
Lastly, I think he is a very honest and nice chap. He lent his concrete drill bit to us to use for AV wiring that we were doing the same day. Saving us a lot of heartache and pain. …. not to mention money. He also spoke spanish which was great with my daughter who is learning at the moment.
I will be using his services again.