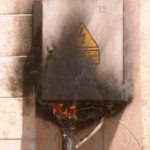 Nbc just did a couple of videos about me, by Tony Kovaleski, kntv investigative unit,  and how to tell if you have dangerous federal pacific panels or circuit breakers.  Here is their article about me:  http://www.nbcbayarea.com/Federal-Pacific-Circuit-Breakers-Investigation-Finds-Decades-of-Danger-171406921.html
How to tell if you have a stab lok federal pacific panel sylvania zinsco panels, knob and tube fuse panels, or not without hiring an electrician.  Top yelp oakland, berkeley, kensington, montclair, piedmont village electrician:  electrical contractor, pg&e upgrade, grounding system, gfi, arc fault, recessed lights, wiring repairs, new circuits.
http://www.yelp.com/biz/williams-electric-oakland
http://bestelectrician.blogspot.com/
http://www.youtube.com/watch?v=I4jJv_j0UsY&feature=plcp Nbc video of Stab lok expert Master Electrician Geoff Williams
explaining how to tell if you have the extremely dangerous stab
lok breakers.

http://www.youtube.com/watch?v=gZZ3a64oaGk&feature=plcp NBC INTERVIEW.

http://www.youtube.com/watch?v=tG9m5kcwnV0&feature=plcp  Federal Pacific pg&e panel on fire.  This video shows what happens to wire inside the house as well as the outside panel when the breakers lock up, and short out.  Sylvania Zinsco breakers are bad as well, due to copper/aluminum wire mixes.
Watch these videos and you will be able to tell if you have these very dangerous breakers or panels in your home.  Call me at 510 339-5601 to get them replaced immediately.  Many thousands of people have had their homes catch fire and die from smoke inhalation and burns.  Do you think any of their families would not have spent the $3,000-$5,000 to replace their pg&e main and sub panels and grounding systems?  It's too late for them, but not too late for you.  Serving zip codes: 
94618, 94705, 94611, 94602, 94603, 94605, 94619, 94608, 94708, 94801, 94556, 94710, 94530, 94806, 94803, 94704, 94563, 94805, 94556, 94564, 94804, 94801, 94552, 94577, 94621, 94502